Did you just get a new tattoo and are you wondering what your tattoo is wrapped in? Are you wondering what you should replace it with? Are you a tattoo artist weighing your tattoo bandage options? Take a look at this article for everything you need to know.
What types of bandages do tattoo artists use?
The majority of tattoo artists out there will immediately wrap your tattoo in some sort of bandage before you leave the shop. There are many options available and each type of tattoo will require slightly different methods of wrapping or bandaging. The three major categories of tattoo bandages are:
Cling Wrap (Saran Wrap)
Cling wrap is the old-school way of protecting your tattoo when your leave the tattoo parlor. It's cheap and readily available. It tends to be best for smaller or less damaging tattoos (as opposed to tattoos with full, solid color) but some artists use it for anything. Some artists will say to keep it on overnight while others say to leave it on for a few hours, replace it, and then wear it overnight. Cling wrap is really just meant to be temporary; it gets you home and protects the tattoo, and your bed, when you sleep that first night.
Plastic Adhesive Film or Dressing
This is a thin plastic bandage that is designed to cover wounds or tattoos and is often generically referred to as second skin. The film is waterproof and protects like cling wrap, but breathes and is adhesive, so it sticks better to your skin. They can be worn for 2-3 days or even more after it's applied. They are also useful because they allow you to remain active and mobile while wearing them. They tend to be much less messy than cling wrap and don't require all of the extra medical tape around the edges.
Gauze or Absorbent Bandages
This could be any typical medical dressing that you would expect for a wound. This is good if you want to dry-heal your tattoo and tends to be more common outside of the United States. I won't be focusing on this option as much in this article.
Why (and why not) use a tattoo bandage on a new tattoo?
There are more reasons to wrap a tattoo, at least in the first 24 hours after receiving it, than to not. Some reasons include:
For traveling – Whether your driving 10 minutes or 2 hours, you'll want to protect yourself and your vehicle from each other.
Protect against clothing and furniture – If you have to wear clothing that covers the tattoo in the first couple of days, you'll want to protect it from rubbing against the clothing. Plus, you don't want ink or plasma leaking on your clothing.
Less scabbing – When you moist-heal a tattoo, it minimizes the amount that it scabs over which generally leads to better ink retention.
Keeps it clean in dirty environments – If you're going to work at a construction site or in a hospital the day after getting a tattoo, you probably want to extend how long you keep it covered up for.
Helps it heal – Plasma contains healing cells, so by keeping that plasma near the skin it will help to heal the tattoo faster.
There are also some CONS to consider:
Allergies – Although most of the wraps available are hypoallergenic, the adhesive can cause a negative reaction to some skin types. If you're going to wrap a tattoo, it might be worth testing a small patch. You can adhere a small piece during the tattoo process to test it out.
Can be expensive – But some tattoo artists will allow you to come back the next day to get the wrap replaced, or they will send you home with a replacement.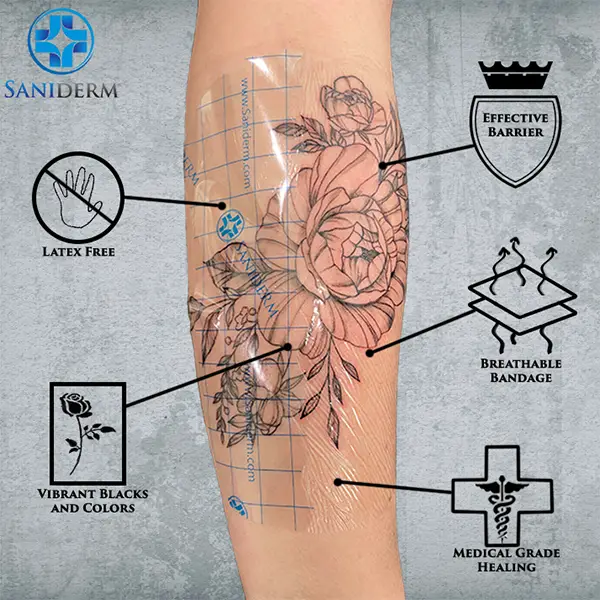 Most Popular Tattoo Bandages: Types and Brands
There are a ton of options out there, but I've gathered some of the more common types.
Whether it's because of their large marketing budget, or because the product truly performs, Saniderm is the most common name out there. Their sterile clear plastic adhesive bandages are the way to go for wet healing a tattoo.
Ultraderm is a clear plastic adhesive bandage. It looks very similar to Saniderm and boasts the same benefits of wet healing, breathability, and protection. It also comes in rolls or pre-cut sheets. There is very little about the company or the product online, which doesn't make it my first choice.
Tatu-derm is an FDA-approved, sterile, hypoallergenic medical-grade, clear plastic adhesive bandage. A great option for a tattoo wrap.
Derm Shield by Recovery is also a good option that comes in a roll and is easily cut-able. Derm Shield also comes in black which is useful if you plan to be out in the sun. Remember that sun exposure isn't recommended for a couple of weeks after getting the tattoo.
Tegaderm wasn't created specifically for tattoos. It is a mostly clear plastic adhesive bandage that is waterproof and breathable that is meant for scrapes, cut, burns, etc., and can cover large sections of the body. It's widely available at big box or drug stores. It comes in various size patches and can be cut or overlapped as needed. It is hypoallergenic and meant to stay on the skin for long periods of time.
Should I Use Saran Wrap on My Tattoo?
First, you should always follow your artist's care instructions, but generally, you shouldn't use Saran Wrap on your tattoo if you're not the tattoo artist. If your tattoo was wrapped with Saran Wrap at the shop, you are usually told to remove it in a couple of hours when you're home and replace it to protect the tattoo overnight. The next morning you can discard it and leave your tattoo exposed. Saran Wrap is only meant to be used for short periods of time to protect your new tattoo.
If your tattoo artist covers your tat with a tattoo bandage, you can generally keep them on for 24 hours, replace it with a new bandage, and keep it on for several days per the bandage's instructions.
You can always stop at a drugstore on the way home and replace the cling wrap with a more purpose-built bandage like Tegaderm or buy something ahead of time. If you need to keep the tattoo protected because of your job or some other reason, this is a good way to go, but ask your tattoo artist for their advice.
Using a tattoo bandage and aftercare.
Hot to put it on:
First, follow the directions that come with your product. Each one may have slightly different recommendations.
Be sure to wash the area thoroughly with an antibacterial soap like Dial. You don't want to trap anything underneath the adhesive bandage.
Pat the tattoo dry with a paper towel. Make sure it's thoroughly dry otherwise the bandage won't stick well.
If using a roll or large pre-cut piece, cut it down to the right size (at least an inch beyond the edges of the tattoo).
Start at an edge of the bandage or the center and smooth towards the edges as you apply it.
Peel off the outer layer of the bandage.
Admire your handy work.
Tips for working with tattoo bandages:
For larger tattoos, it's easier to cut a roll into 4 to 6 inch wide pieces and apply as several strips. It's much easier to handle in smaller sections and easier to remove wrinkles or bubbles as it's applied. Make sure to get a good overlap over each piece. Separate strips also helps to work around varying body shapes.
Use scissors to round the corners of the bandage to keep them from peeling off more easily.
Use a basic, non fragranced antibacterial soap like Dial or Bioderma when washing your tattoo.
Use paper towels when patting dry instead of cloth towels.
Your tattoo can still get itchy beneath the wrap. Don't scratch it!
Use your tattoo artist's suggested process of applying ointments and/or moisturizers after the final wrap is removed. It's normally not recommended to apply anything before using a tattoo bandage.
How Long Should a Tattoo Bandage be Worn on the Skin?
There are various opinions about how long you should keep your bandage on, but these are the most common recommendations:
Cling wrap:
Keep it on for 3-5 hours until your home.
Clean and wash the tattoo and allow to dry.
Apply another layer for overnight and remove in the morning. That's it.
Tattoo wrap (Saniderm, Tatu-derm, etc.)
Keep the initial wrap on for 24 hours.
After 24 hours, remove the wrap and clean your tattoo.
Apply a second wrap that will stay on for between 2 to 6 days depending on the brand and the tattoo artists recommendations.
Can I leave my bandage on my tattoo overnight?
Yes, many artists recommended that you leave a tattoo wrap on overnight. It will protect your tattoo from germs and the rubbing of your sheets. It will also keep your sheets from getting blood, plasma, and ink on them. If you're not going to wrap your tattoo overnight you may want to use an old pair set of sheets.
Best way to remove a tattoo bandage.
Here are some general guidelines for removing the bandage.
Start by washing your hands.
Thoroughly wet the bandage with luke warm water. Even better, do it in the shower. The warm water will soften the adhesive.
Pull the bandage up and way from the skin slowly. You don't want to take any scabs and ink with it. It shouldn't be that painful.
Clean the tattoo. Rub the soap in your hands to create a lather and apply it to the tattoo. Don't use a washcloth – you need to be gentle. Pat dry with a paper towel.
Saniderm Tattoo Bandages
Saniderm creates a barrier around your freshly tattooed skin, protecting it from dust, bacteria, moisture, and other external irritants. This transparent tattoo aftercare bandage is completely waterproof yet breathable to ensure that the skin receives the airflow it needs to heal and remain sweat-free. Using a product like Saniderm, specifically designed for tattoo aftercare, allows your tattoo to heal safely and look like the masterpiece it is.  There are other products that perform in a similar way, but I will go into more detail on Saniderm specifically.
Saniderm Aftercare
Saniderm is meant to make the aftercare process easier and simpler. It can be applied immediately after the tattoo. As ink and plasma build up underneath the wrap it's recommended to replace it. You will usually need to do this between 8 and 24 hours afterward. The second wrap is meant to stay on anywhere between 3 to 6 days.
 Saniderm Removal
Saniderm gives the following directions on how to remove a bandage:
The best way to remove Saniderm is to find an edge of the bandage, and then to pull it back over itself in the direction of hair growth. Pulling upward on the Saniderm can be painful, so we don't recommend it. In some rare cases, people can "stick" to the Saniderm bandage better than others, which can make it more difficult than normal to remove. In cases like this, try removing the Saniderm in a warm shower. The warmth will loosen the adhesive, making it easier and more comfortable to remove.
From <https://faq.saniderm.com/knowledge-base/how-do-you-remove-saniderm/>
Where to buy Saniderm
Saniderm bandages, as well as other aftercare products, can be bought from here or from their website.
Alternatives to Tattoo Bandages
Other than using a typical wound bandage, INK-EEZE makes a spray-applied bandage called Ink Guard. It claims to protect the tattoo from germs and bacteria, and that it's breathable. Spray Guard is a great alternative for someone who is allergic or sensitive to adhesives. The spray bandage will gradually fall off during the healing process, but this may also be a negative as some people state that it comes off too soon or inconsistently. You may just need to reapply it more often depending on your particular situation. A spray bandage can also be useful in areas that are particularly difficult to use a wrap.
Remember that every tattoo artist has their own methods for taking care of a tattoo and that different types of tattoos have different needs. You should follow your tattoo artists suggestions and don't be afraid to ask questions.
What has worked (or hasn't worked) with your tattoo bandages? Are you an artist? Let us know what you recommend.