Chainsaws are indispensable tools when it comes to tree removal and maintenance. If you've used one before you understand their usefulness but also their power and potential for danger. When using one, it's important to take the proper precautions to be safe. Whether you're an arborist, sawyer, forestry worker, or weekend warrior this article can help you understand some basic principles of first aid, workplace safety, and good options for PPE and first aid kits.
Steps you can take to keep the work area safe
As you prepare to do work on a job site, there are steps you can take to make sure the area is safe. The following is a list of precautions that OSHA suggests employers take, but these are just as applicable to anyone who is doing tree work, even if you're someone cleaning up your backyard.
Assess the work area for falling object hazards (like a broken or dead branch ready to fall)
Check the ground area for unsafe conditions for ladder or equipment placement
Have a qualified arborist survey the work site and identify the types of trees involved and the possible hazards that are related to tree structure (splintering, etc.)
Determine if rigging is necessary and use the proper tree tie-ins
Determine if workers will need to use aerial lifts or climb
Make sure that ladders and equipment are in proper working condition and maintained
Ensure that the climbing equipment used is approved for tree care work, including climbing and safety lines, fall protection, inspect for serviceability before use
Make sure all employees are adequately chain saw trained
Make sure that workers are at least 10 ft away from electrical lines and coordinate with the electrical company if necessary
Establish a drop zone for trees or branches
Establish an audible or visual means of communication between overhead workers and workers on the ground.
Seek traffic control if needed
Establish emergency procedures before the operation takes place
How to protect yourself from chainsaw injuries
Even when every precaution is taken and you've received the appropriate training, there is still a chance of injury. The next best step you can take is to minimize that injury is by wearing adequate personal protective equipment. Personal protective equipment usually consists of:
Hard hat
Safety glasses / face protection
Work boots
Hearing protection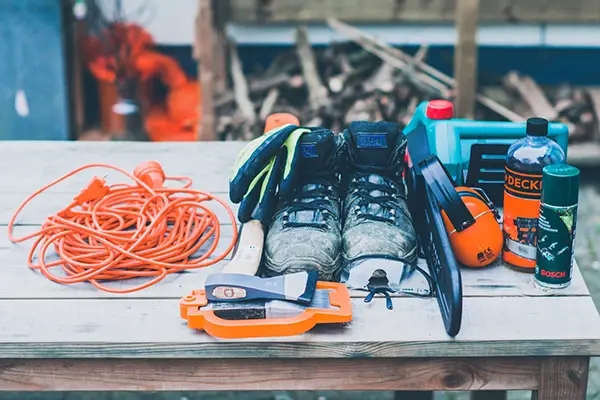 What should you do if you get cut by a chainsaw?
Considering that chainsaws are designed to remove material from whatever they come in contact with, they can do severe damage to the human body. If the unfortunate event of a chainsaw injury takes place, the first priority is to treat the cut like any other laceration and stop the bleeding. WebMD has recommendations on how to deal with bleeding wounds.
Stop the bleeding by:
 Apply direct pressure on the cut or wound with gauze, clean clothing, or other makeshift dressing until the bleeding stops.
If blood soaks through the material don't remove it. Continue to put more cloth or gauze on top of it and continue to apply pressure.
If the wound is on a limb, raise the arm or leg above the heart, if possible, to help slow the bleeding.
Dressing the wound:
Once the bleeding has stopped wash your hands or wear gloves before treating the wound further.
Rinse the wound with clean soap or water and use an irrigation syringe if needed.
Find a clean and sterile dressing to protect the wound. Apply an antibiotic ointment to the dressing before applying to the cut. Change the bandage approximately once a day to keep the wound clean.
You should call 911 if:
Bleeding is severe
If you suspect internal bleeding
If there is an abdominal or chest wound
When the bleeding can't be stopped after 10 minutes of firmly a applied pressure.
Blood is squirting from the wound.
You'll need to visit a doctor when:
The wound is deep or the edges are dragged or keeping open
If the wound is on a person's face
When wound has dirt or debris that won't come out
If wound shows sign of infection
There is numbness around the wound
Red streaks form around the wound
If the person hasn't had a tetanus shot in the past 10 years
What to do when professional medical help isn't close by
It's not hard to imagine that felling trees or logging operations would happen far from first responders. Work might be happening in a remote area, down dirt roads, where help might not arrive for a significant amount of time. This is when preparing for a life-threatening bleeding event is most critical – it will be on the people nearby to render first aid to any who is injured. The two primary ways of minimizing the chance of death are:
Proper training. Proper training not only includes the use of a chainsaw, but adequate first aid. CPR training, advanced first aid, and stop the bleed protocol training might all save person's life.
First Aid and chainsaw trauma kits. In the event of a severe chainsaw cut or an amputation, Band-Aids aren't going to cut it. You'll want tools like pressure bandages, a tourniquet, and hemostatic agents to quickly get the bleeding under control.
What does OSHA say about first aid kits
OSHA doesn't get too specific with first aid kit requirements. They mostly just state that employers are required to provide first aid supplies relative to the hazards of working conditions (see OSHA standard 1910.151). This means that the more hazardous the working conditions, the more extensive the first aid kit should be.
OSHA does, however, get specific about first aid kit requirements in the logging industry. Even if you're not a logger but work in a similar field, there's probably value and reviewing what a logger first aid kit would look like. You can review that OSHA standard here.
Suggested chainsaw first aid kit / trauma kit contents
Below is a list of adequate first aid and trauma kit contents for chainsaw users. Whether you're clearing your own land or working professionally, this kit is adequate for a small crew (2-3 people) and meets what OSHA requires for loggers.
Gauze pads – 4″x4″ or larger
Large gauze pads – minimum 8″x10″
Adhesive bandages in several sizes and shapes
Minimum of 2 roller bandages at least 2″ wide
Minimum of 2 triangle bandages
Wound cleaning agent. I'd suggest saline solution to rinse out a wound (consider a irrigation syringe as well) but towelettes work too
Trauma shears
Minimum of 1 emergency blanket
Tweezers or hemostats
Adhesive bandage tape
Latex free medical gloves
CPR mask or resuscitation bag
Minimum of two elastic wraps
Splint
Directions for requesting emergency equipment and help
Upgrades and additions
These are items that should be considered in addition to OSHA's minimum requirements. These items are critical in the case of severe or life-threatening bleeding.
Rolled gauze – to wrap limbs, pack a wound, or help with severe bleeding
Minimum of two tourniquets (CAT tourniquets are proven to be effective and used by the military)
Hemostatic agent – (hemostatic impregnated dressings are suggested over powder packets)
Pressure dressing or Israeli bandage
Saline solution to clean wounds and rinse out the eyes
Eye pad
Chainsaw IFAK (individual first aid kit) or trauma kit
It's important to consider where these supplies are going to be kept. If you're in the woods, you may be a few hundred yards from the truck or your home. Consider keeping an individual trauma kit on you in the event that you have to save your own life. These can also be useful if you're up in a tree and need to apply a bandage before you get back down to the ground. There are several IFAKs specifically designed for tree workers out on the market. They often have belt loops or are secured to the leg, and are meant for one-handed use. Adding a whistle to get the attention of others is also a good addition that takes up little room.
Best First Aid Kits
Inexpensive Car kit that meets OSHA's requirements
The First Aid Only Loggers Kit comes in a steel case and contains everything you need to check the boxes for OSHA. It's 6-1/2″h x 9-1/2″w x 2-3/4″d, so can fit under the seat of your truck seat. It also comes with a tourniquet, but you'd be much better off swapping that out with a better option. It was $58 at the time this was written, but you can save $10 by buying the same kit with a plastic case.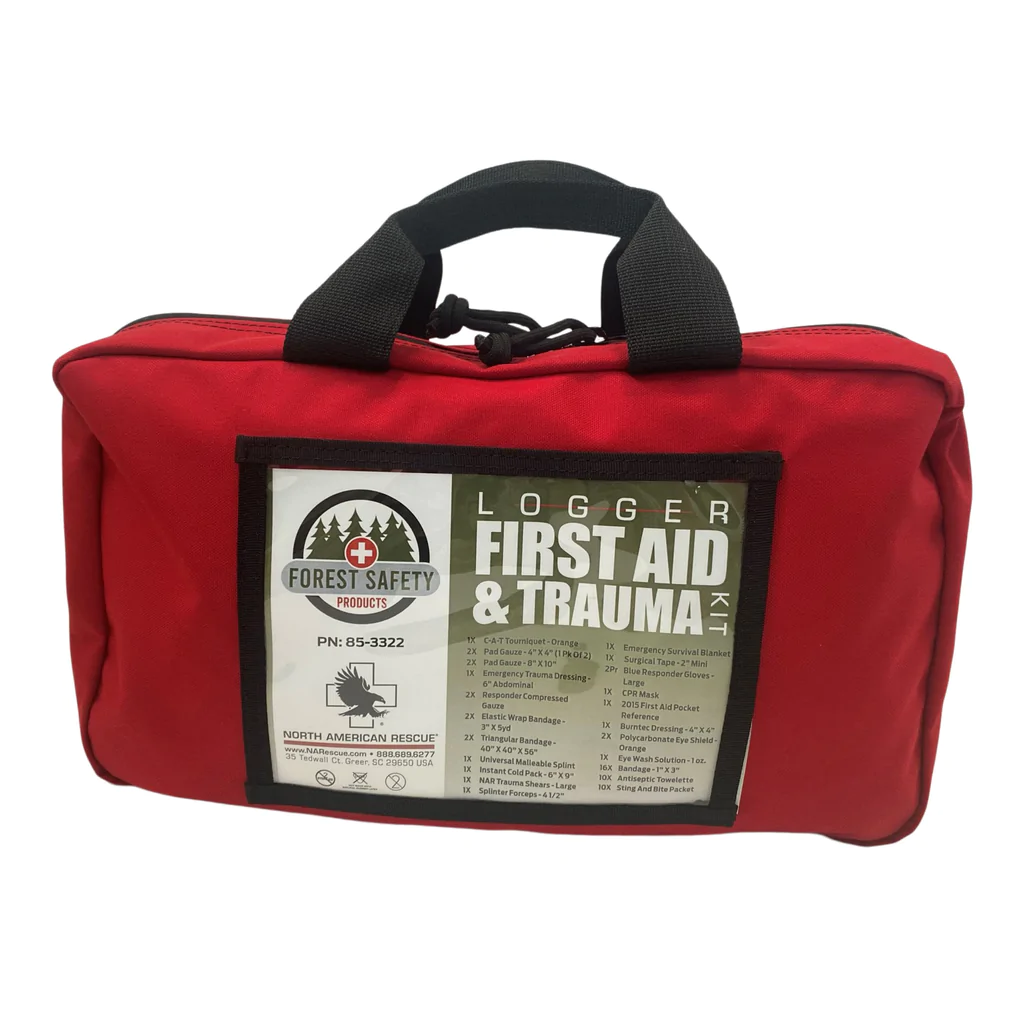 The better car kit option with quality components
Meeting OSHA's minimum requirements is a good start, but having quality components is critical. Forest Safety's Logger's First Aid and Trauma Kit uses North American Rescue's equipment and includes a CAT tourniquet, additional dressings and a burn dressing. You also have the option to add Quick Clot Gauze.
Personal IFAK for chainsaw users
The Rescue Essentials Sawyer Bleeding Control Kit comes from a reputable brand that gives you exactly what you need in a case that's meant for chainsaw chaps. It comes with two 5″x9″ combine pads, trauma dressing, CAT tourniquet, gloves, and trauma shears.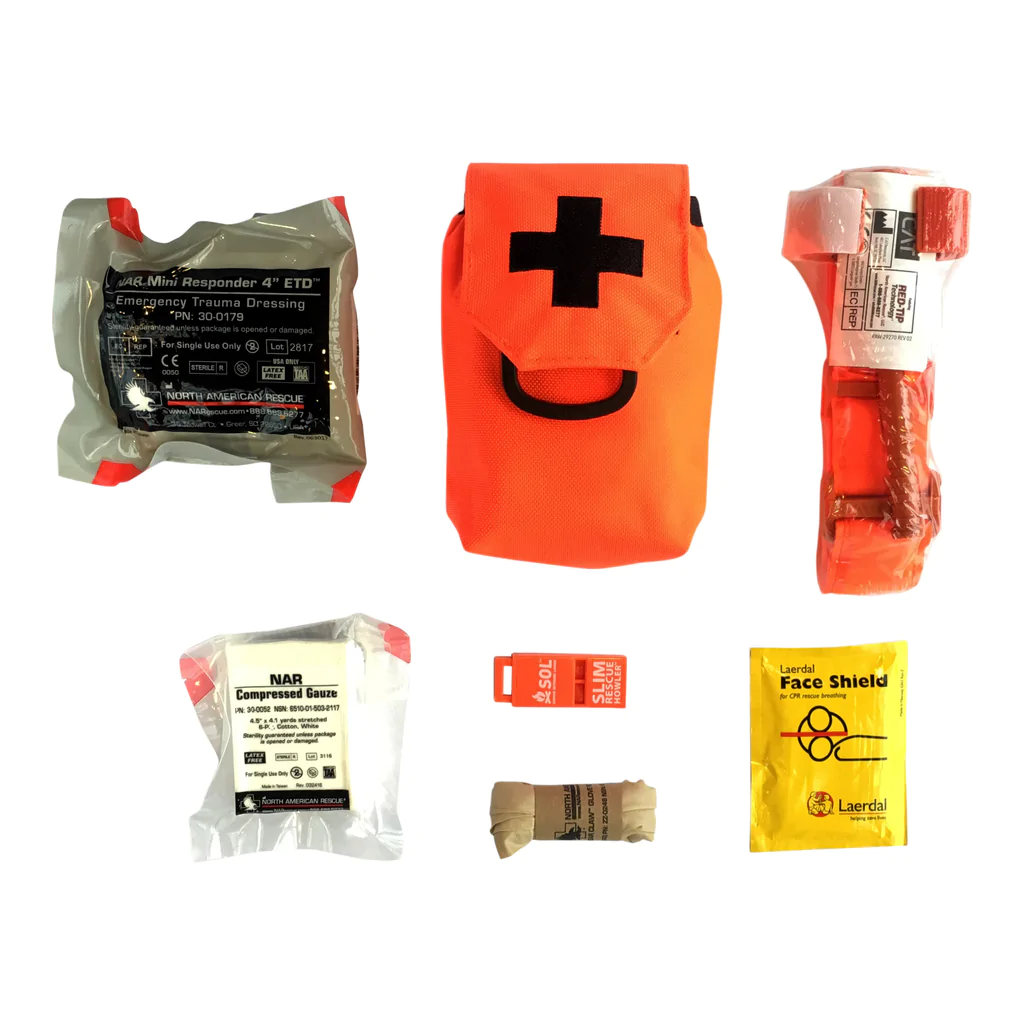 Better trauma kit with quick-draw function
What makes this Crew Chainsaw Trauma Kit unique is a one-handed quick draw function that makes access that much easier in an emergency. The kit contains: CAT tourniquet, compressed gauze, mini compression bandage, CPR face shield, gloves, and a whistle to let your crew know that your in trouble.
Final thoughts
Being a sawyer, arborist, forestry worker, or anyone else who uses a chainsaw is a dangerous job. The proper precautions, whether it's safety precautions or being prepared for an injury, should be taken seriously. If you work in the industry, know that this isn't a comprehensive review of OSHA's requirements. If you are a weekend warrior, all of this info is applicable and can be applied to whatever tree cutting you may be doing.