A stethoscope is not only a useful healthcare tool, but also an essential part of the first responder's gear. A good stethoscope will be utilized for a variety of tasks, from listening to lung sounds or heart tones, or checking a blood pressure. A durable, high-quality, and of course, affordable stethoscope is a necessity for any first responder. This article will discuss the top four stethoscopes on the market today. This research was completed independently, and the author of this article does not work for or represent any of the following stethoscope products or manufacturers.
Stethoscope #4 – 3M Littmann Lightweight SE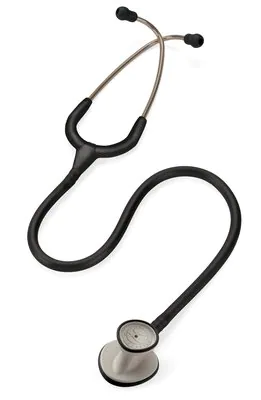 Brand  – 3M Littmann
Model  – Lightweight II SE
Length – 28 inches
Weight – 4.2 ounces
Features -Lightweight and comfortable design, durable with unique metal teardrop shaped chest piece, two-year warranty.
Price – $60.00 (approximately) – Check Amazon
Littmann is a top stethoscope brand, they are high quality and made in the USA. Since 1967, 3M has been manufacturing Littmann stethoscopes, a name they purchased from Dr. Littmann, who was a well-known cardiologist, inventor, and Harvard School professor.
This is an excellent first entry point stethoscope with a unique design that allows for great sound while obtaining blood pressures. This stethoscope is very lightweight, which makes it easy to add to a medical kit, keep in a vehicle, and carry on your person without encumbering you. This stethoscope is fully capable of hearing lung and heart sounds, but the overall quality is not going to be the highest. In other words, you are not going to get perfect, crisp sounds but you are getting the Littmann quality and durability, as well as a two-year warranty.
Stethoscope #3 – ADC Adscope 615 Platinum Professional Clinician Stethoscope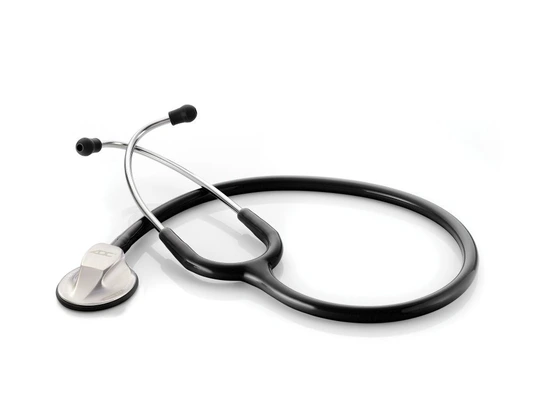 Brand – ADC (American Diagnostic Corporation)
Model – Adscope 615 (Platinum)
Length – 30.5 inches
Weight – 5.4 ounces
Features – The ovoid shaped chest piece improves ergonomics and is made from lightweight zinc alloy. This model comes in 7 different color options and a lifetime (limited) warranty.
Price – $72.00 (approximately) – Check Amazon
This uniquely designed stethoscope has a wide chest piece to capture crisp and clear sound, with a soft-touch/hard-press feature. Using light pressure, you can listen to low frequency sounds and apply heavier pressure for higher frequencies, this feature allows for a wide range of detectable sounds including lung and heart sounds. Rugged construction with high quality and flexible tubing means this stethoscope performs well from day-to-day use. In addition, it comes with a lifetime warranty which includes parts, repair, and free refurbishing if needed. This stethoscope is assembled and packaged in the USA.
This is an exceptional starter stethoscope for someone who does not want to deal with a dual head chest piece. This makes this stethoscope easier to use and therefore more versatile, especially for the newer first responder.
Stethoscope #2 – MDF ProCardial Stainless Steel Cardiology Stethoscope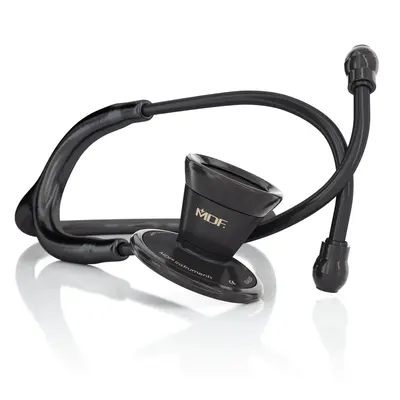 Brand – MDF Instruments
Model – ProCardial Cardiology
Length – 30 inches
Weight – 8.2 ounces
Features – A patented True Bell and True Diaphragm dual head chest piece allows the user to easily hear both high and low frequency sounds at the highest quality. The headset will custom fit and mold to your head and ears and the sound canceling earpieces reduce excess noise effectively.
Price – $99.00 (approximately) – Check Amazon
MDF has been manufacturing stethoscopes since 1971 and this ProCardial model is one of their top sellers and highest rated stethoscopes. This particular module is heavier and larger, but its bulkiness adds to its tough structure and durability. This stethoscope would stand the test of many uses and time in the hands of a first responder.
This Procardial Cardiology focuses on sound and sound quality, with a variety of sound related features. The thicker tubing blocks out background noise and improves sound quality. The heavy and deep cone-shaped bell allows for excellent sound when listening to both heart and lung sounds. The ear tips come in small, medium, and large (all included) and this allows the user to adjust for the perfect fit, for both comfort and improvement of sound quality.
With a lifetime warranty, the company's website boasts that they provide excellent customer service and requesting parts is a simple and painless process. For around $100, you will have a hard time finding a stethoscope with the quality and durability of this one.
Stethoscope #1 – Littmann Cardiology IV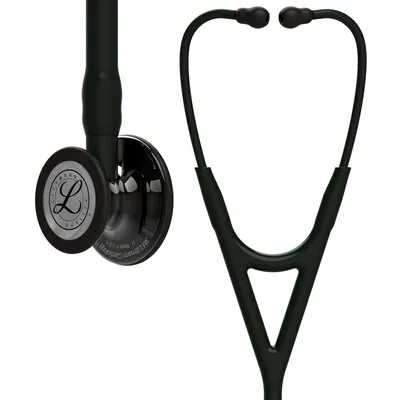 Brand – 3M Littmann
Model – Cardiology IV
Length – 22 or 27 inches
Weight – 6.2 ounces
Features – 22 or 27 inch, double-sided chest piece for adult or pediatric patients, stainless steel chest piece, 7-year warranty, comfortable rubber ear pieces with sound proofing qualities to reduce noise.
Price – $180.00 (approximately) – Check Amazon
The Littmann Cardiology IV is an upgrade from the Cardiology III, and it is worth every penny. This high-quality stethoscope has phenomenal sound quality, excellent noise reduction (great for loud rooms, back of the ambulance, side of the highway, etc.), is lightweight, and is incredibly durable. Littmann products are made in the USA and come with a 7-year warranty.
This stethoscope boasts a tunable diaphragm to allow both high and low pitch sounds to be heard, as well as a reversible cheat piece to quickly change from adult to pediatric patients. The single-piece diaphragm and open bell allow the stethoscope to remain clear of debris but also easy to disassemble and clean if necessary. The tubing is high quality and durable, so it should have no issue lasting for years. The 3M website boasts that this is one of the highest-level stethoscopes they produce. 
This stethoscope has a variety of customizable options, from different colors, chest piece finishes, and lengths. The Littmann Cardiology IV is one of the highest quality and best stethoscopes on the market priced under $200.
What to consider when choosing a stethoscope?
When choosing a stethoscope, the first responder should look at variety of elements, including the manufacturer, the durability, the versatility, and the price.
When reviewing the manufacturer, research should include things like how long they have been making stethoscopes? and what is their warranty and/or return/replace policy?
The durability can be determined by reading a variety of reviews from multiple websites that sell the stethoscope, not just the manufacturers website.
Versatility has to do with the weight, length, and overall ability to use the stethoscope in a variety of different environments. Again, reading reviews will help contribute to this decision.
The budget should be determined before shopping begins, for example, set a budget of $100 and stick to it, through diligent research, being able to find a good stethoscope at that price is very doable.
Final thoughts
This article discusses the four best stethoscopes for EMTs & First Responders. Number 4 and number 3 are two excellent stethoscopes to get any newer first responder started and comfortable using. Stethoscopes number 2 and 1 are the highest quality with excellent sound, since the price difference varies, it will allow the consumer to remain within their budget while still receiving a high-quality product.
All these products were independently researched. As a consumer of healthcare items and a first responder, it would be recommended that you utilize articles such as this to help guide your own research when making product purchase decisions.